How to Register a Domain Name with Bluehost
Domain name is an essential part of your website's online presence, choosing it wisely would be potential, so visitors will remember you.
1. Log in to your Bluehost account.
2. Click the Domains menu and then click the submenu link named Register.
3. Enter your desired domain name and click Check.

(source)
4. Scroll down the list and click the shopping cart icon for any domain you'd like to add to your cart.
5. When you're ready, click Proceed under the shopping cart list on your right.
6. Choose your renewal setting: auto-renew or manual renew.
7. Check the box to add Domain Privacy (optional).
8. Read and agree to the Terms of Service.
9. Click Add to Cart.
1.First you need to log in to your Bluehost Control Panel.
2. Now look for the Domains tab from the left-side navigation and click it.
3. Click the Purchase Domain option from the sub-navigation.
4. Enter the domain name you wish to register, then click Check.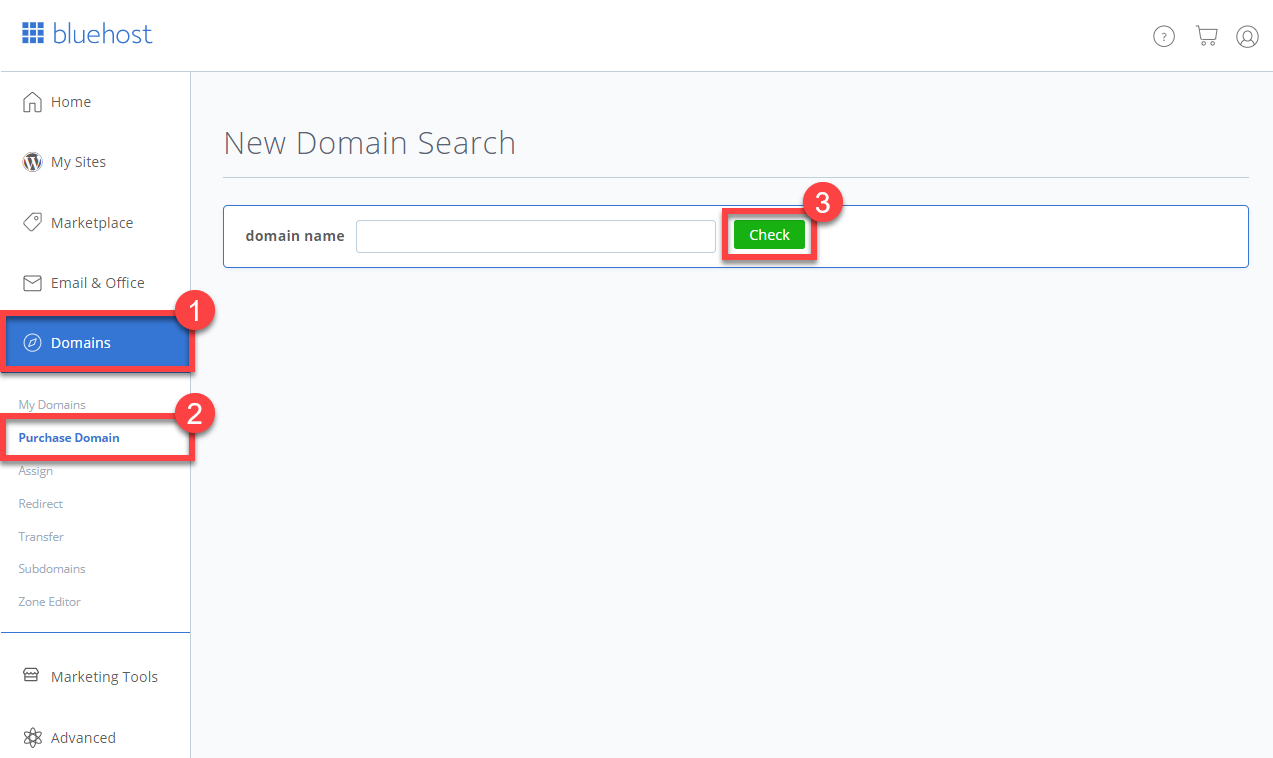 5. Click the cart icon next to an available domain, then click Next.
6. Review the Registration Settings and click add to cart.
7. Apply payment details and checkout.
Advanced tips for choosing a domain:
Keep it Simple: Look for a single word domain name that has one possible spelling. Choosing a simple domain name without confusing spelling will make it easier for your visitors to reach your website.
Shorter is Better: The shorter your domain name is, the easier for your visitors to remember your website. it should be maximum of 15 characters.
Avoid Hyphens: Using hyphens can really be hard to remember it, remains into someone's memory would be difficult and there is high chances for the visitors that they will ends up at mydomain.com If you register domain with hyphen  my-domain.com .
Consider Other Extensions:  After finding the perfect domain name ending with .com, it would be w a great idea to pick up other  extensions like .net, .org, .info, .us, etc. so you can park these domains to point to your actual account to catch up any visitors that just may happen to type in a different extension.
Choose With Rich Keyword:  While this does not impact much on SEO, but it can help. For example, if people are searching for "florida luxury resorts," floridaluxuryresorts.com could be a great domain to buy for with only fact that it is exactly what people are searching for.
Avoid Slang:  Using slang words like 'ur' instead of  'your'  should also be avoided as they don't really work. For instance, ursite.com is a bad substitute for yoursite.com.